New Patient Centre
Welcome to Albany Place Dental Practice!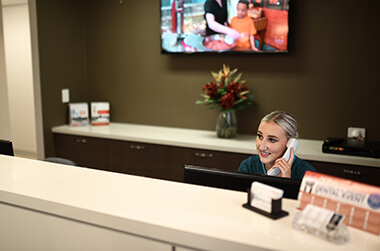 Thank you for considering our team for your oral health care needs. We take extreme pride in our work and look forward to passing our passion for dentistry along to you. Upon entering our practice, you'll be greeted by a member of our front desk team who will help you fill out your new patient paperwork if you haven't already done so online.
Next, you'll be taken back to meet with Dr Jethwa.
Your First Visit
At your first visit, Dr Jethwa will begin by introducing himself and getting to know a little more about you or your child. If you're visiting us for a specific concern, we'll discuss what exactly can be done same-day and what may need additional visits. When you're feeling comfortable enough to begin care, we'll do exactly that. If you're someone who tends to be nervous about visiting the dentist, have no fear—Dr Jethwa will be sure to explain everything that's going to happen well in advance so you feel prepared and calm.
General checkup and cleans will take roughly 30 – 45 minutes.
Ongoing Treatment Plans
If you're visiting our practice for care that requires multiple visits (crowns, implants, etc), we'll always make sure you know exactly what to expect at each appointment. We'll also aim to cover any cost responsibilities with you before service so you're well aware of payment options—we're happy to also offer plans that may be suitable for your needs.
Book An Appointment Today
If you'd like to get started with oral health care that's specific to you and your family, contact Albany Place Dental Practice today to book your first appointment. We're happy to participate in the More for Smiles Program and have an onsite HICAPS machine for your convenience.
We can't wait to help you unlock the smile of your dreams.
CONTACT US

New Patients | Albany Place Dental Practice