Dental Bridges and Crowns
at Albany Place Dental Practice
Bridges and crowns can completely transform your smile, particularly if your broken, missing or damaged tooth (or teeth) is one of the front.
An advantage of bridges and crowns are that they are permanently fixed into the mouth and replace broken, decayed, or missing teeth.
All About Dental Crowns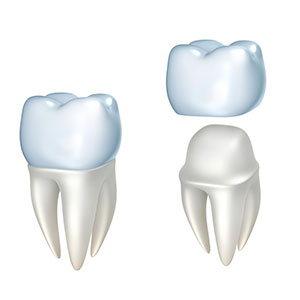 A dental crown (also known as a tooth cap or dental cap) covers a single tooth. It can rebuild a decayed or broken tooth, strengthen a worn or weak tooth, or improve a tooth's appearance. To make a crown, we'll start by taking a mould from your teeth, and have the crown made in a dental laboratory. The crown will be fitted onto your existing tooth at our Albany Creek dental practice. When choosing a crown, you have the choice between metallic or tooth-coloured porcelain. If you choose tooth-coloured porcelain it will be colour matched to your existing teeth. Once in place your crown will not be visibly different to your other teeth, thus improving the appearance of your teeth and smile.
What Are Dental Bridges?
If you have missing teeth then your dentist may recommend a dental bridge. A permanent dental bridge usually has two crowns placed over the healthy teeth either side of where the missing teeth are. False teeth are attached to the crowns forming the dental bridge and covering the toothless space in your mouth. In order to be able to attach the crowns with the artificial teeth the abutment teeth will be reduced in size. This allows for strong anchors as well as more flexibility in creating a more natural looking bridge and crowns.
There are many different options available regarding dental bridges and your Albany Creek dentist will advise you on your options and provide you with his professional recommendations. Examples of options include fixed-movable bridges, fixed-fixed bridges and cantilever dental bridges.
Discover Your Options
Crowns and bridges typically involve two or three visits to our dentist practice, to take the mould, to check the crown or bridge and finally to fix the crown or bridge in place. Get started today by finding out which option is best for your unique needs. Contact our practice to learn more!
CONTACT US

Dental Bridges and Crowns Albany Creek QLD | Albany Place Dental Practice