Teeth Whitening at Albany Place Dental Practice
Effects of Teeth Whitening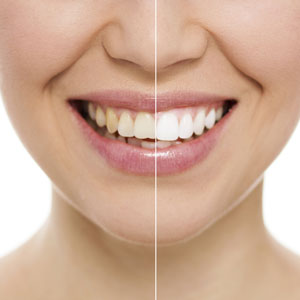 Tooth whitening is designed to whiten your teeth and remove stains. Overtime our teeth can become stained due to red wine, coffee and coke for example. More often than not it is the tiny microscopic holes in the tooth enamel that traps the stains and gives the appearance of 'dirty' or discoloured teeth.
Professional Teeth Whitening
Teeth whitening is a successful and non-invasive treatment that lightens the shade of your teeth and brightens your smile! Here at Albany Place Dental Practice in Brisbane's northside we offer POLA Dentist Teeth Whitening Kits that are extremely effective and are gentle and natural looking.
Advantages of POLA Teeth Whitening Kits
POLA Take Home Teeth Whitening Kits have many advantages over 'in chair' dentistry teeth whitening.
Firstly and importantly they allow you more control – you can decide yourself how white you would like your teeth. You just stop the treatment when you are happy with the colour provided.
Secondly you can also, when you feel it is necessary do a top-up application.
Thirdly the procedure is not only effective but very easy. You simply apply the whitening gel according to the instructions into the whitening trays and then keep the trays on your teeth for around thirty minutes a day. For many an important advantage is that you can do the treatment in the comfort of your home rather than spending time in a dentist chair.
Finally take home teeth whitening kits such as the POLA teeth whitening kits that we supply are better for teeth sensitivity than 'in chair' teeth whitening.
How Much Does POLA Whitening Cost?
POLA dentist teeth whitening kits available from our Albany Creek dentist practice include custom-made whitening trays and the teeth whitening gel. The cost for POLA dentist teeth whitening kits and the custom-made whitening trays (from molds taken of your teeth) is $595 for both upper and lower arches.
Caring for Your Teeth after Whitening
After teeth whitening treatment it is important that you avoid stain creating liquids and foods for several days after treatment. Long term you may want to consider using a straw for coloured soft drinks and possibly cutting down on the foods and beverages that are most responsible for staining of your teeth.
It is also highly recommended that you maintain regular dental checkups which include a professional teeth cleaning treatment. This will prolong the effects of the teeth whitening.
Get the smile you want
Interested in booking your in-practice whitening treatment? Get started today by contacting us.
We look forward to helping you achieve your most beautiful smile!
CONTACT US

Teeth Whitening Albany Creek | Albany Place Dental Practice | 07 3264 2650