Dental Implants at Albany Place Dental Practice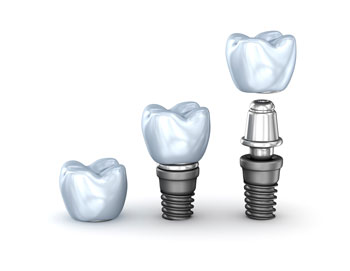 If you're missing one, multiple or all of your teeth, you've probably wished that you had the full look and function of your original smile.  At Albany Place Dental Practice, we can restore healthy teeth. Dental implants are:
A long-term solution that can last a lifetime
Easily maintained
Natural-looking
Protective of healthy jaw bone and teeth structure
An Overview of Treatment
Clinical Assessment and Consultation

An evaluation, X-rays and photographs will be taken that assess your oral health and determine whether you're a candidate for dental implants. We have an implant dentist on staff who will talk you through a proposed treatment plan, including costs. If your case is more complex, we may split this appointment into two separate visits.

Placing the Implant

The implant is put into your jaw without affecting the health of any surrounding teeth.

Implant Integration

A healing period is necessary for the bone to accept your implant. This time varies, taking 6-18 weeks depending on your case. In the meantime, you can go about your activities as usual.

Restoration

Your implant abutment and crown can now be placed. Rest assured that our Australian-made products are of the highest quality available. You can now book in for your regular checkups, during which we'll check your implant just like we would the rest of your teeth.
Understanding the Steps Involved
Dental implants work to replace one tooth, several teeth or all teeth. The process for each is as follows:
Replacing One Tooth

Step 1: Determine your missing tooth can be replaced by an implant
Step 2: The dental implant is placed in the jawbone
Step 3: The abutment and implant crown are affixed to your dental implant

Replacing Three or Several Teeth

Step 1: Determine the missing teeth are suitable for dental implants
Step 2: Only two implants are placed in the jawbone
Step 3: A brand-new set of teeth are attached onto your implants

Replacing All Teeth – Fixed Option

Step 1: Determine if implants are right for you
Step 2: Four to six dental implants are placed in the jawbone. This process will stimulate the surrounding hard and soft tissue to maintain facial support and foundation
Step 3: A fixed bridge is attached to the implants

Replacing All Teeth – A Removable Option With an Overdenture

Step 1: Determine if implants are the best option to keep your dentures in place
Step 2: Usually, two implants are installed in your jawbone.
Step 3: Connecting locator attachments to the implants, acting as an anchor to keep the denture in place
Not Sure if a dental implant is right for you?
If you still have questions and would like to find out more about dental implants in Albany Creek, contact us today!

Dental Implants Albany Creek | Albany Place Dental Practice | 07 3264 2650